Thought Jumper started as a fun conversation of enriching conversations with information in realtime. With a developed understanding of how semantic models of english grammar works, the R&D team continued to get fascinated by exploring the potential of a natural language applied to linked data; in short, how can a semantic web be useful in leveraging and optimising the learning principles; which in turn can inculcate the notion of a curiosity driven mindset for accelerated growth.
This problem of a value-driven approach to building technology that empowers human thought and curiosity took us on several paths; which we started calling as quests. We would all go on our respective quests and come back to the table to share our inputs; and deliberate on it for hours.
We identified that some of the folks from our team; and instilled our values and belief into a project. We called this team – GoMad. The idea of forming this team and choosing this name was to keep it simple and focused on the limitless capabilities of the human mind, aided with technology.
And that is how, Thought Jumper was born!
---
Below you will find some of the screenshots from these impromptu as well planned team sessions.
In a session once we put all our thoughts together, we would often form them into a series of events, category of operations, segregated as actions leading to features.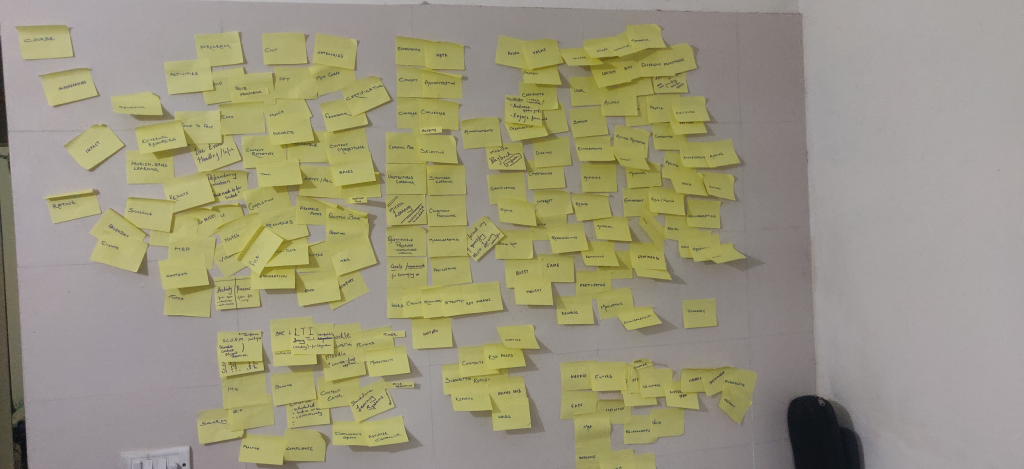 ---
We would then further break them into coherent stories that can be modelled, and reviewed for need and efficiency; leading to a very agile roadmap of immediate and long term activities and goals.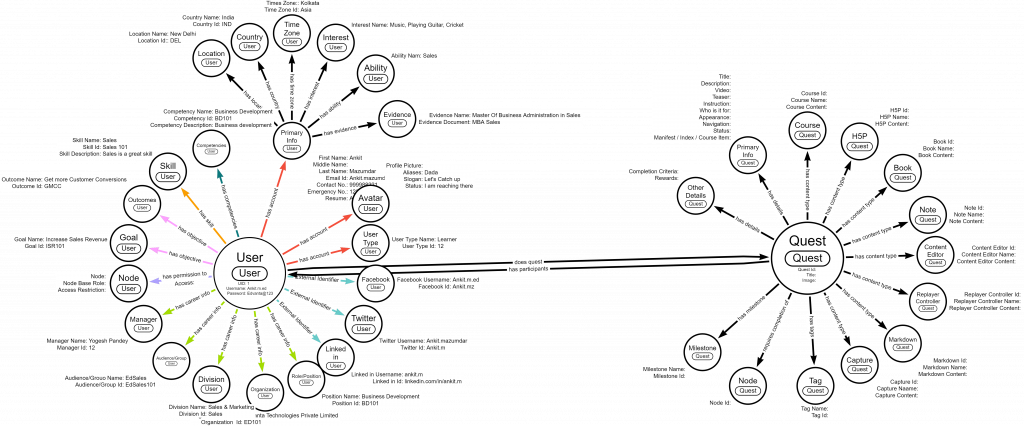 ---
We would further scope and model these into identified modes of user interactions, leading to our first cut UI narrative along with the user experience design.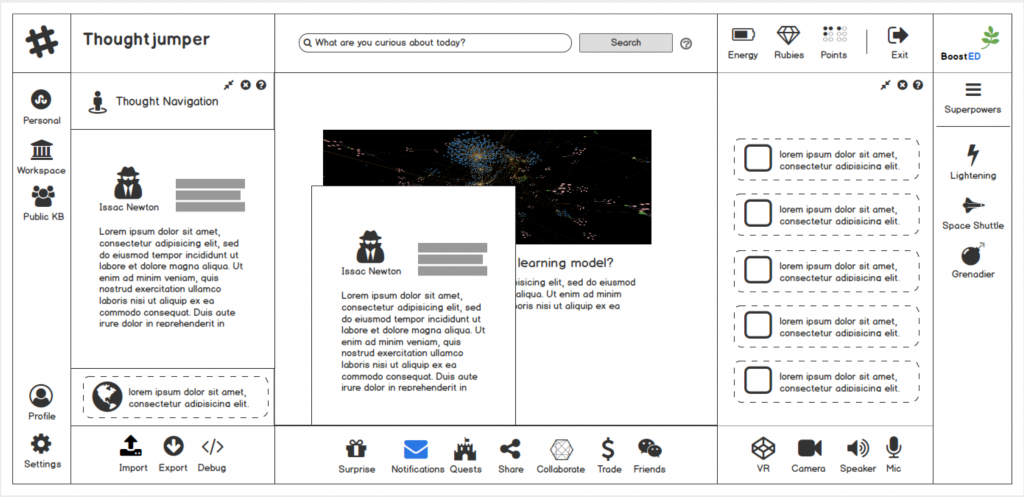 ---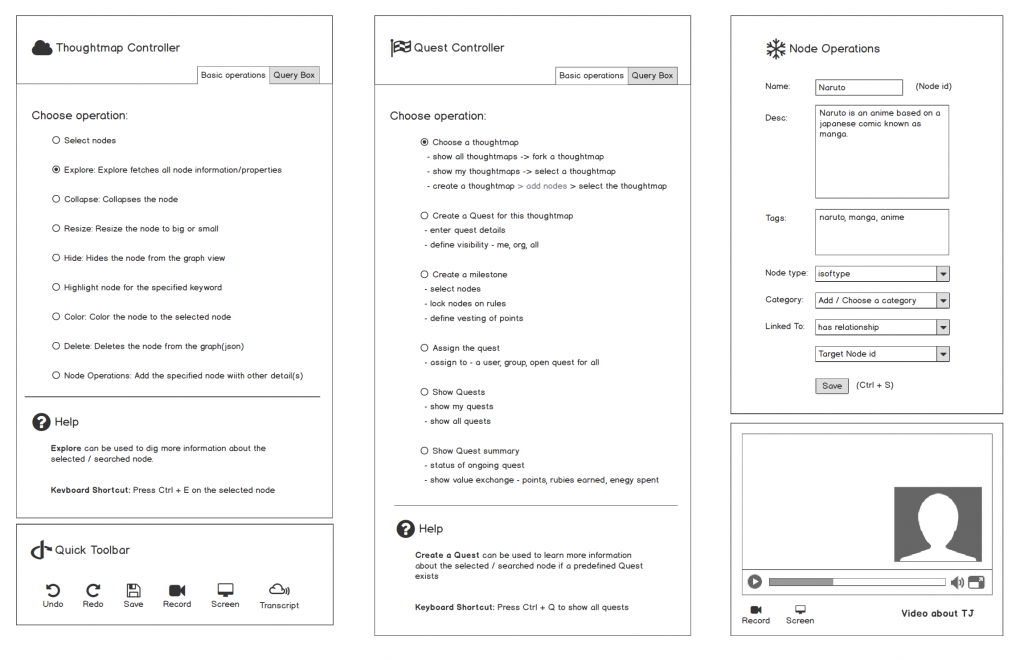 ---
From these experiments we explored all kinds of human computer interaction including
Voice only interface
Mouse only interface
Keyboard only interface
Virtual and Augmented reality driven interface
Graph interface for visual representations of linked data
Simplified consumption interface
Mobile ready interface
Canvas interface
---
The team did these explorations and followed it up by activities to gauge the potential and effort required for each of these exploration. This made our journey not just a learning experience but also fun.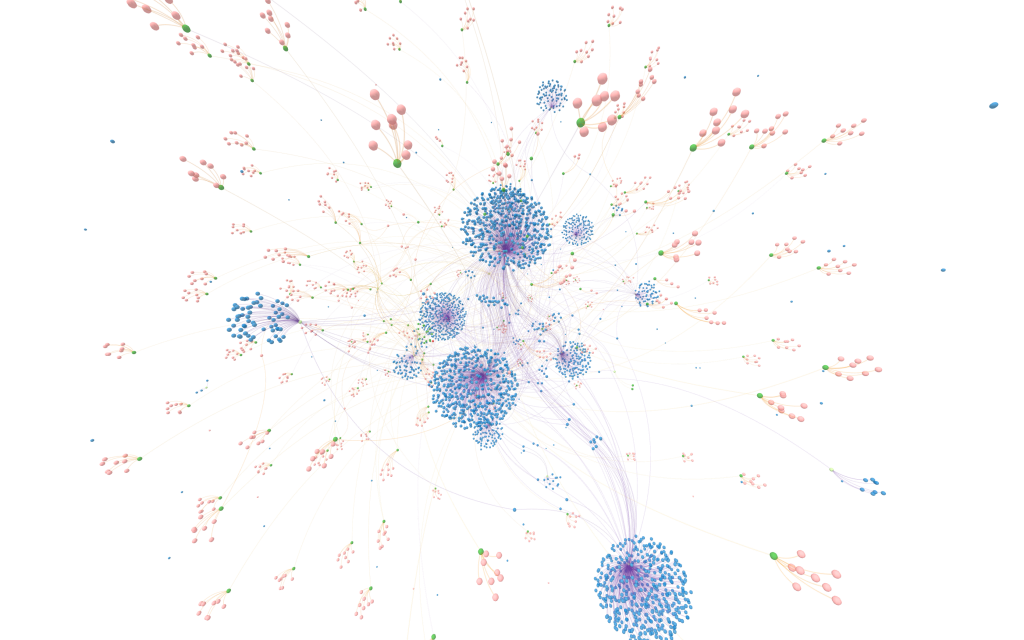 ---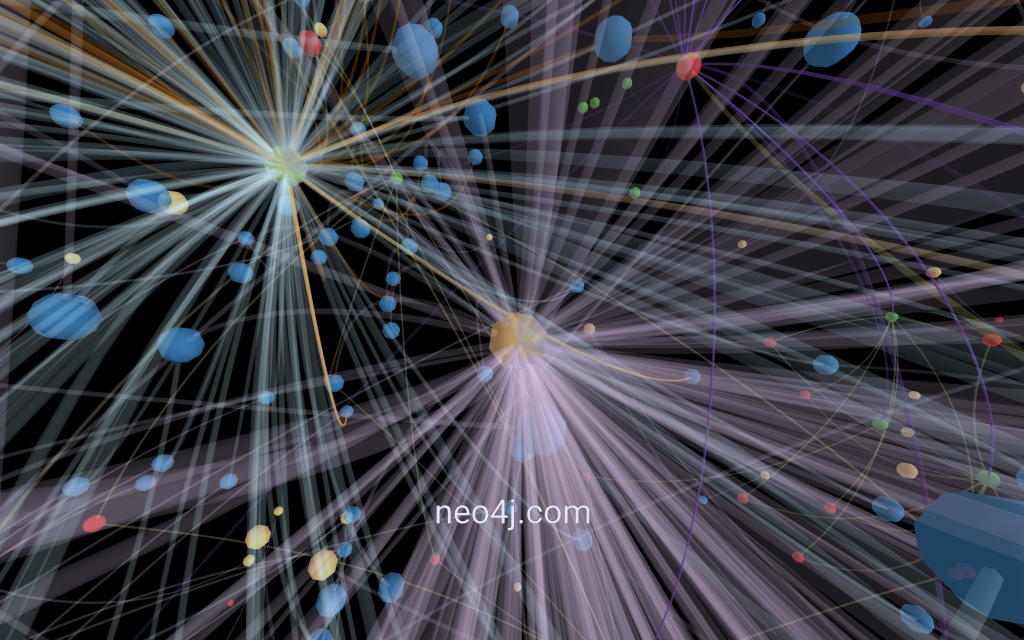 Building it in VR was fun. One could swim from one information node to another using Quest Controller. The team enjoyed swimming in their own thoughts, quite literally.
---
At Edvanta, we take our work as seriously, as we take fun. As part of another experiment, we went ahead and mapped all our activities and processes at Edvanta across projects to dig deeper than reviews, to develop and understanding of how we analyse our own footprint, daily thresholds, activities.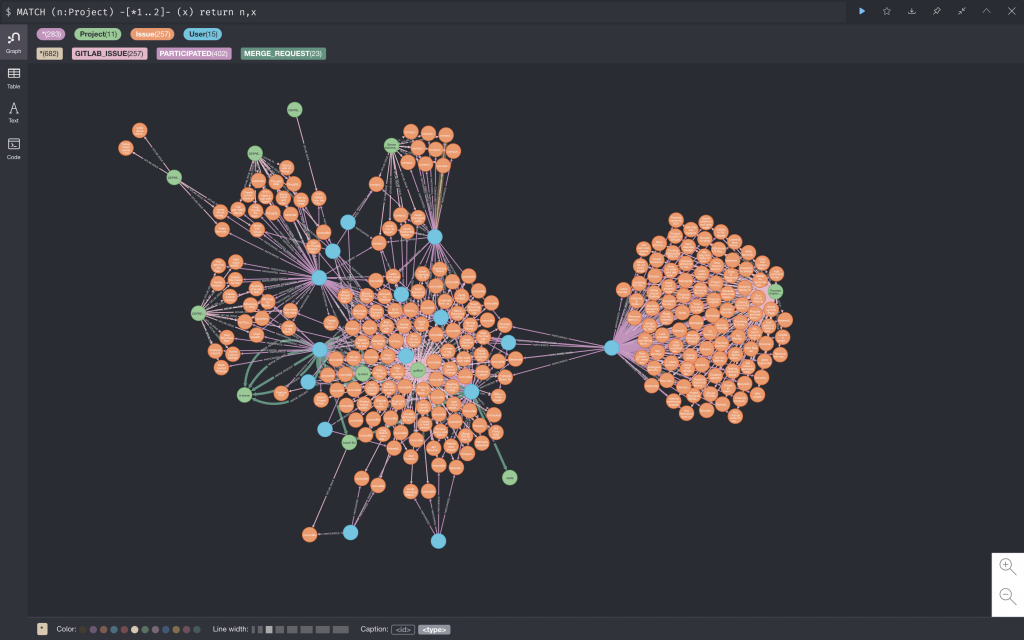 What you see in this graph is one of the earliest mappings of our organisation's operational data. We soon realised that in order to optimise this further we would need to define a structure driven architecture that maps everything we do; and we needed to define our own set of dictionaries, taxonomies and event statements. We took a small subset of our processes and also created an ontology of our own actions spread in data across projects, people and internet.
---
We further mapped our activity statements with rewarding and penalising mechanism; which led to our Eureka moment of Understanding and Refining Process Intelligence. We pushed this information to everyone on our Discord Channel.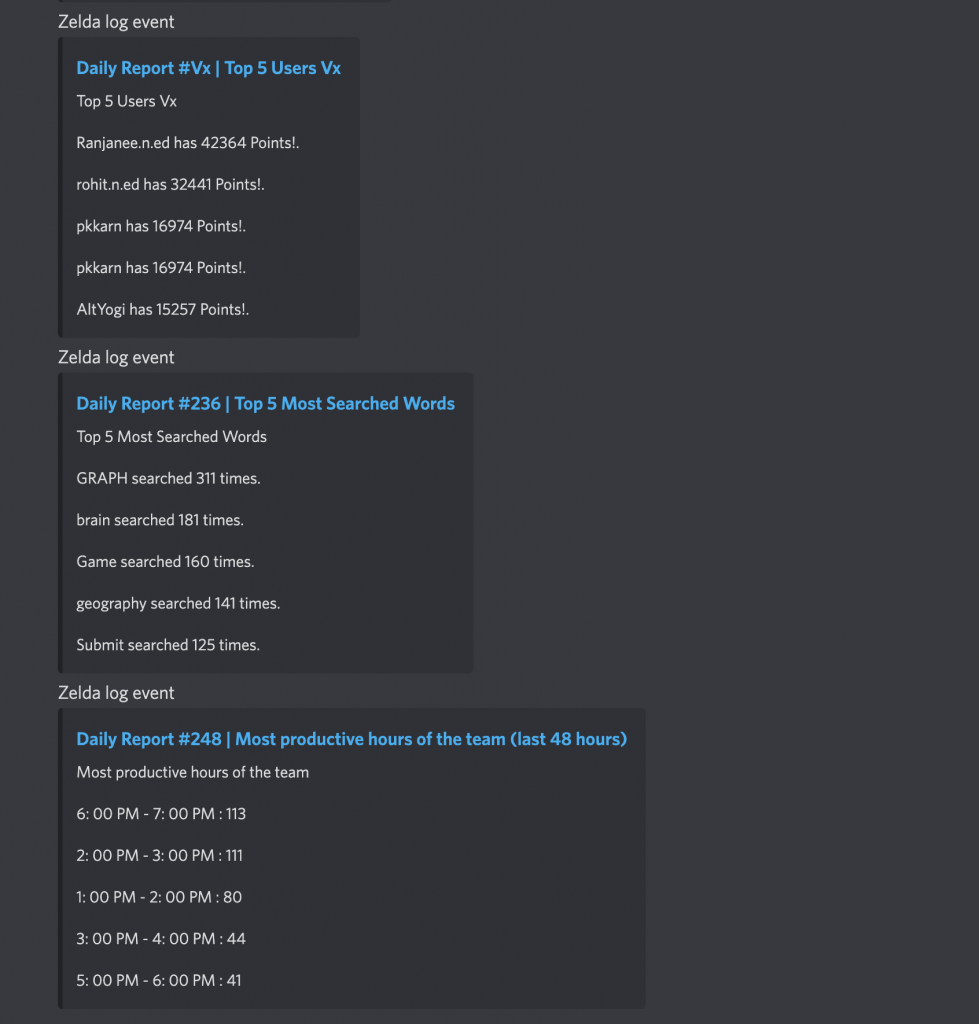 ---
Our quest with Thought Jumper continues.
The team spent hours, refining these further and further for over 2 years to make the Thought Jumper engine and capable of several feats. We now intend to share this with the world; and hope that learning never stops.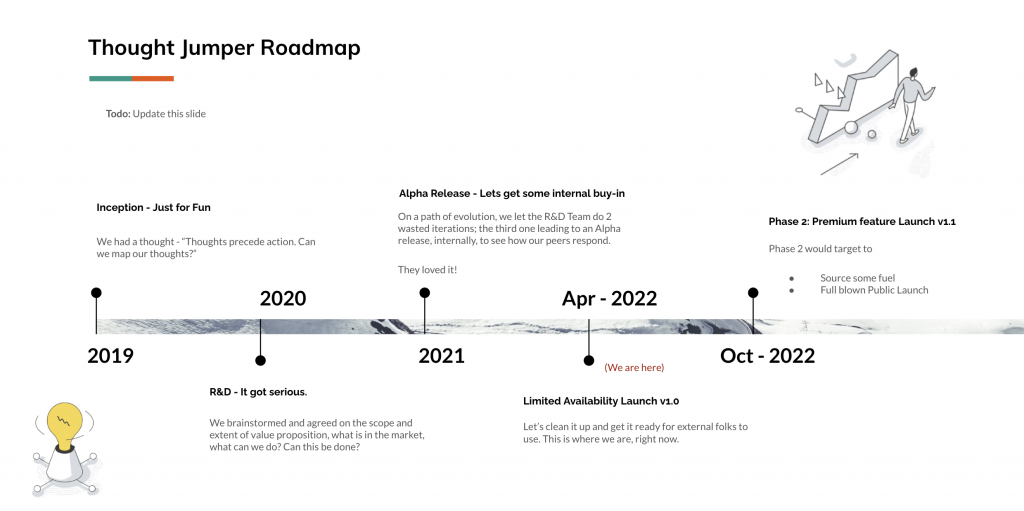 So, that is the long story short. We are looking for people, organisations who we can engage with to build better tools of learning and thinking for all. Do get in touch with us.
And if you haven't tried Thought Jumper yet, I urge you to Sign up now.
Given curiosity, and persistence, your thoughts can empower you. What can you do with it?
Well, find out yourself.
Happy Thought Jumping!